2023-08-16
Premature Graying Hair
Worried about premature greying of hair??? It's a matter of worry if the hair matures in the premature age of a person like in one's 20s. Reason can be diet, pollution, chemical products, etc. It also affects your confidence, results in low self-esteem. There is no need to buy expensive products from the market. You can use products in the kitchen and can stop this problem to get upsurge.
How to avoid premature hair greying
Everyone likes black and heavy hair. No one likes white and dull hair. We like black hair to that much extent we apply mehndi, hair color, etc. even expensive to expensive things to maintain its color. Even we know these chemicals are not only a temporary solution but also bad for our health.
Greying of hair causes because there is a problem in melanin in our hair vesicles. It is also known as pigment cells. These cells give your hair color. When these glands lose pigment or melanin that results in greying of hair. Greying of hair can happen even at a young age.
In normal and simple language greying of hair is because of improper supply of oxygen to your cells and problem in pigmentation in the scalp region.
Causes of greying of hair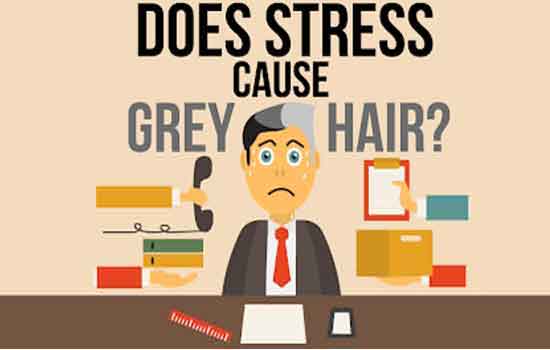 Greying of hair can be noticed mainly in the people with dark hair color and when you are young in your college or even in school. The main causes of greying of hair are-
Genetics- Genes play a great role in the greying of hair. If your parents and grandparents had their hair grey at an early age then there are chances of your getting grey hair at a very early age. Genetics play only a 30-35% role in your greying of hair rest factors can vary.
Sinus- It is a genetic disease. This is the blockage of your nose muscles in which your nasal cavities get blocked and blocks the sinuses(bones in your cheek area and forehead area).
In this disease, your hair glands become blocked or we can say that it loses melanin. The sinus also blocks your muscles on the face and head. It also results in hair loss, greying of hair, a lot of pain in that area, and weakening of eyesight at an early age. The person having sinus used to face pain most of the time in one's head region and nose region.
Stress- It is the main cause of any disease. Small results of stress are low immunity, sleep-related problems, anxiety, issues related to skin, and heart-related disease.
Stress can lead to greying of hair, and even heart attack. It can result in androgenetic alopecia which is a kind of baldness in both males and females.
Thyroid- Thyroid is another cause of greying of hair. Both the conditions of hypothyroid and hyperthyroid that is less and overactivity of thyroid gland respectively. It affects the production of melanin.
Deficiency of Vitamin- Vitamins not only give us energy they also provide strength and color to our hair. Vitamin b, e, and biotin play an important role in the pigmentation process.
Diet- A diet full of processed food, fast foods, and excess sugar, and salt can also result in greying of hair at an early age. The imbalanced diet results in the greying of hair.
Smoking or any bad habit- Smoking affects the lungs and heart. It contracts the vessels that result in a reduction of blood flow to the parts of the body and even to hair glands. This leads to hair loss and greying of hair. These are minor issues in comparison to that smoking can lead to lung and heart diseases.
Not having fixed time of sleep- If you are not sleeping properly and for the amount of time your body needs then it results in greying of hair and many adverse reactions on your body.
Hydrogen peroxide- It helps in maintaining the color of hair.If your scalp is producing more amount of hydrogen peroxide or you are using an excess amount of this on your hair more than the desired amount also leads to greying of hair. It is used in dyes and hair colors.
Using toxic products for hair- If you are using products containing paraben, sodium lauryl sulfate (SLS), and sodium Laureth sulfate (SLES). Always be aware of while purchasing a new product from the market. Also, avoid over-washing your hair.
Pollution- Pollution in the air generates many chemicals that are not good for hair at all. That also results in greying of hair.
Oily hair- If your hair is oily by nature that can also affect your hair glands. Our glands are used to produce oils which are necessary for our body and this is a natural process. But sometimes because of over activeness of glands, they produce an excess of oil. The increase in age or over-activeness of your hair glands results in the thinning of your hair and a change in the natural color of your hair as well.
Dandruff- Having dandruff on the scalp not only results in irritation, itching but also results in thinning of hair and greying of hair. Dandruff does not allow your scalp to breathe properly.
Other factors- Sun radiation, using hot iron or hairdryer too frequently, bleaching, using many chemical products can result in hair loss and greying of hair.
How to reverse the grey hair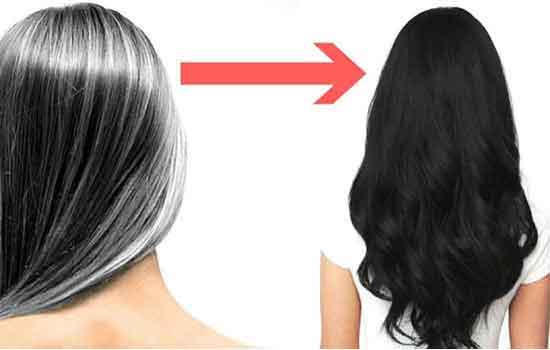 You cannot reverse your grey hairs fully but can reverse to some extent and also prevent further greying of hair. Here are some home remedies-
Rosemary and sage- Both products are known for its benefits for skin and hair related problems. It helps in darkening the grey hairs. It also gives a new look to your hair.
The sage helps to moisturize the hair, tames the frizz, boosts the hair growth, and makes your hair softer, and shiner.
Rosemary helps in the shedding of a hair and improves blood circulation in the scalp. This automatically promotes hair growth and reverses the greying of hair. It helps the scalp to produce melanin in enough quantity. It is having the ability to generate cells in the scalp and can prevent baldness.
Method-
Take half a cup of rosemary and sage in equal amounts.
Boil this in 2 cups of water for 30 minutes.
Let the mixture cool down.
To apply this mixture you need a spray bottle.
Apply the mixture on the scalp and let it dry.
Wash it with shampoo.
You can use it 3 times a week.
You can use the rosemary essential oil in your shampoo. 10-15 drops per 100ml of shampoo.
Rosemary and olive oil- Olive oil is very good for dry and thin hair. It makes the hair moist, thick, and shiner. It acts as a natural conditioner. It contains oleic acid, squalene, and palmitic acid. These all are having the quality to make your hair softer. It also helps in preserving the natural moisturizing property of hair.
Olive oil can be added to your diet which also helps to retain the moisturization of your skin. It is widely used in food.
Method to prepare-
Take half a cup of rosemary and olive oil three times of the rosemary.
Mix it well in a glass jar.
Place it on a wooden stool (don't let it touch the earth) and in sunlight for 40 days.
Shake it on daily basis.
After 40 days use it as hair oil.
Using shikakai- Shikakai is a great natural cleanser. It is believed that it can prevent premature greying of hair. In India, people are using it for many decades as a natural cleanser.
Method-
Take 4-5 shells of shikakai, crush it properly.
Add a half cup of sour curd to it and mix it well.
Apply this on your hair for 15-20 minutes.
Now wash it properly with a mild shampoo.
Almond, lemon, and amla juice- Amla is full of goodness. It is very good for appetite and hair as well.
Lemon is also great medicine for appetite.
Almond oil gives strength to your hair and good for the health of your scalp.
Method to prepare the mixture-
Mix equal parts of almond oil (Badam Rogan), lemon juice, and amla juice in equal parts.
Apply this mixture to your scalp and wash it the next morning.
Use this method daily for 2-3 months according to your problem.
Coconut oil and curry leaves- The benefits of coconut oil cannot be count on the fingers. It acts as an excellent conditioner. It helps in the regrowth of your damaged hair. Curry leave is rich in protein. It's beneficial not only for hair but also good for consumption. People in India used to make so many dishes in coconut oil especially in South India.
They make almost every dish in coconut oil.
Curry leaves are very good for health. It is widely used in India since ancient times in daily food items because of its high medical qualities. The oil is a good thing to lose weight and for sugar patients. It helps to balance the cholesterol level of the body.
Curry leaves when added with coconut oil result in a very great thing. It will reverse your greying of hair and also strengthen your hair.
How to make this oil-
Take one cup of coconut oil and add 20-30 curry leaves to it.
Boil the mixture for 10 minutes.
Allow the mixture to cool down.
After getting cold, remove the leaves with the help of a sieve from the oil and fill it in an empty bottle.
Apply it on the scalp and hair properly, one day before washing the hair.
Wash your hair the next day with a mild shampoo.
Your hair is now ready for natural shine and back to black.
Curry leaves with yogurt- Both are having antioxidant properties. These antioxidants neutralize free radicals, which help in strong and long hair. These are rich in amino acids which help in giving strength to glands and keep the hair healthy. These are good sources of proteins and keratin.
These are not only good when used as a hair mask but also can be benefitted by adding to diet.
Method to make the hair mask-
Take one-fourth cup of curry leaves and a half cup of yogurt.
Crush it fully.
Apply this paste on your scalp and hair fully.
Leave it for 30-45 minutes.
Then wash your hair.
Repeat this twice a week.
Conclusion-
You can use the above-discussed methods but you also need to change your diet as well. The strength your hair is getting from inside your body. If your diet is good then it will reflect on the outer side of your body. Add fiber, calcium, protein, vitamins, and other essential nutrients to your diet. This will not only result in good hair growth but also results in the reverse of grey hair. It also results in a healthy mind and body.
There can be so many reasons for your grey hair which you think are responsible but you need to figure out the appropriate reason by consulting your doctor. It can either be your diet issue, genetics, or any of the mentioned above. If the greying is not controlled by any of the remedies then it can be your body's sign for any health issue.
Talk to your doctor and go for the test needed.